You know, I like using music in adventures most of the time, but I just wish that I could use Tidepool, Sporepedia, Timeline and Space from the OST of Spore. As a result, I decided to make this Mod request for anybody that wants to make this a music mod which I would call "More Spore OST Mod", which adds a bunch of more music from the Spore OST into the Music Library aka the Audio Objects you use to add music to your Spore Adventures which is this: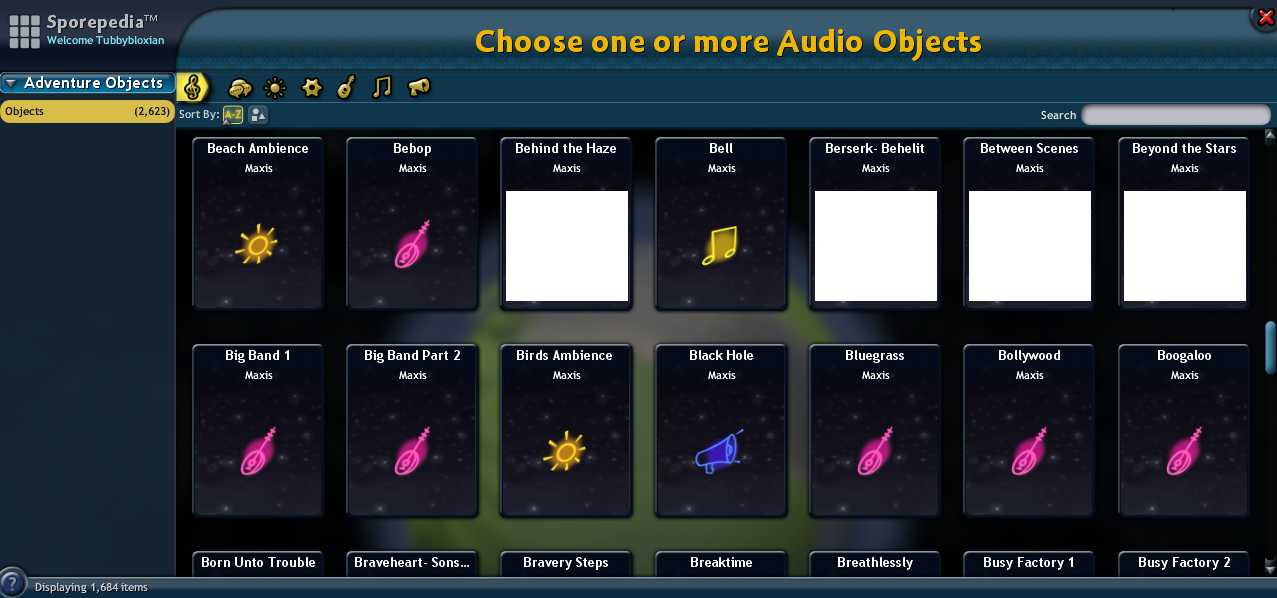 Note: The picture that shows the Audio Objects does show some of the tracks that have white squares as there picture, well those ones are just a couple of sound mods that I installed but sadly they didn't include Tidepool or any of that.
https://www.youtube.com/playlist?list=PL90CC2E91376D35B0
(Playlist for Spore OST)
Here's the playlist that has Spore music but yet most of them are not available for people to put in there adventures.
An example can be this one:
I want to use Tidepool [ambient] in my Cell Stage But sadly, it isn't in the music library on Adventure editor so no. That's why I want a mod to add that soundtrack along with other Spore soundtracks that aren't in the music library on Adventure Editor
So if anybody's reading this, well you cam try doing me a favor and make this a music mod so I can use Sporepedia, Tidepool, Timeline and Space.
Also:
For the video called "Spore OST", which is uploaded by GameOST's, well you need to check the description of the video to see the names of the music in the video, especially since one of you could be working on this mod rn and could get the names wrong at one point.
Hopefully someone does decide to make this a mod for me and everyone else, because I do wanna use Victory (Cell Stage) and Tidepool in my adventures. (Along with the other Spore OST that aren't in the game's library)