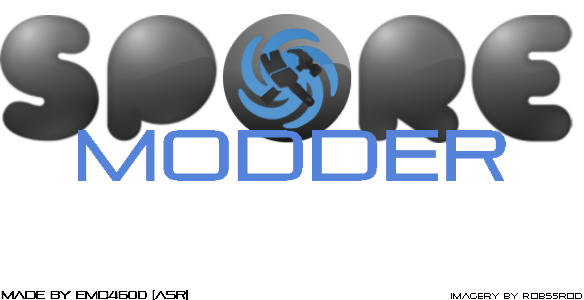 SporeModder
Effects
[youtube]
http://www.youtube.com/watch?v=EV2icdni7Hs
[/youtube]
User interfaces
Other features
- It has automatic updates, so you can always have the latest update without having to worry about anything.
- A fast workflow. Convert the files, pack the mod and run the game in just one click.
- Texture viewer, including most of the ones SporeMaster couldn't convert. Supports viewing .rw4, .dds and .raster textures.
- Can convert .tlsa, .pctp, .raster, .spui files.
- Some bugfixes SporeMaster needed. For example, now 'string8s' and 'transform' properties work correctly.
To download the program, you just have to go to
https://github.com/Emd4600/SporeModder/releases/latest
and download the file
"SporeModder.BETA.1.0.0.zip"
.
To open the program execute the file
SporeModder Launcher.exe
. This one will check for updates and download them as necessary. Your antivirus/firewall might complain about SporeModder trying to connect to the internet; it's just connecting to GitHub to check for updates, so there's no danger.
SporeModder is still in a beta stage, and it can contain bugs and errors; please, if you have any suggestion or bug report, comment and report it here or in GitHub.
The program is still a bit slower searching files, so it's recommended to use SporeMaster for that instead.
Here you have some example projects (just put them in the
Projects
folder) so you can see how to use SporeModder:
http://www.mediafire.com/file/1wyhirfpp ... ojects.rar
---
Blender Add-ons
The addons for the 3d modelling program
Blender
allow us, among lots of other things, to export animated parts to use them in Spore. This is what the addons include:
- A
RW4 Exporter
, allowing you to export models into Spore to use them for your mods, with lot more functionality than SporeMaster provides. Its features have been listed below!
- A
RW4 Importer
, allowing you to import .rw4 models into blender.
- A
GMSH Importer
, allowing you to import .gmsh models into blender.
- A
GMDL Importer
, allowing you to import .gmdl models into blender, that is, Spore creations. Mind you, texture support isn't available yet.
FEATURES:
| | |
| --- | --- |
| | |
| Support for MORPH HANDLES | Support for MOVEMENT ANIMATIONS |
| | | |
| --- | --- | --- |
| | | |
| Support for EDITOR BACKGROUNDS | Support for BUILDING/VEHICLE PARTS | Support for OBJECT MODELS |
INSTALLATION:
1. Download the .rar provided and unzip it.
2. Go to your Blender installation folder. There, find the folder
YOUR_BLENDER_VERSION\scripts\addons
, for example
2.75\scripts\addons
.
3. Drop the
sporemodder
folder there (the folder itself, not its contents!).
4. Open Blender, and go to
File -> User Preferences
. In the
Add-ons
tab, find
SporeModder Add-ons
and enable them.
The addons work fine with the latest Blender versions (2.7x).
Download:
http://www.mediafire.com/file/6d9hh1o5v ... -01-17.rar
Here you have a basic tutorial about how to use the addons:
http://davoonline.com/phpBB3/viewtopic. ... 585#p27572
If you want to see this modding tool in action, check this mod!